Recently, Shenzhen Camsense Technology Co., Ltd announced that it had completed C1 round financing of nearly 100 million yuan. This round of financing was led by Tongge Venture Capital, followed by HTC's industrial fund and Smartcitysz under SASAC. Previously, Camsense has been favored by well-known institutions such as Oriental Fortune Capital, QIANHAI FOF and COSTONE CAPITAL. Zhou Kun, CEO of Camsense, said: "The introduction of Tongge Venture Capital as our strategic investor will have a positive impact on Camsense' subsequent transformation of industrial chain resources and related technological achievements in the VR/AR industry. It will be more conducive to strengthening the company's development strategic layout and industry research capabilities, and accelerating business expansion and capacity expansion."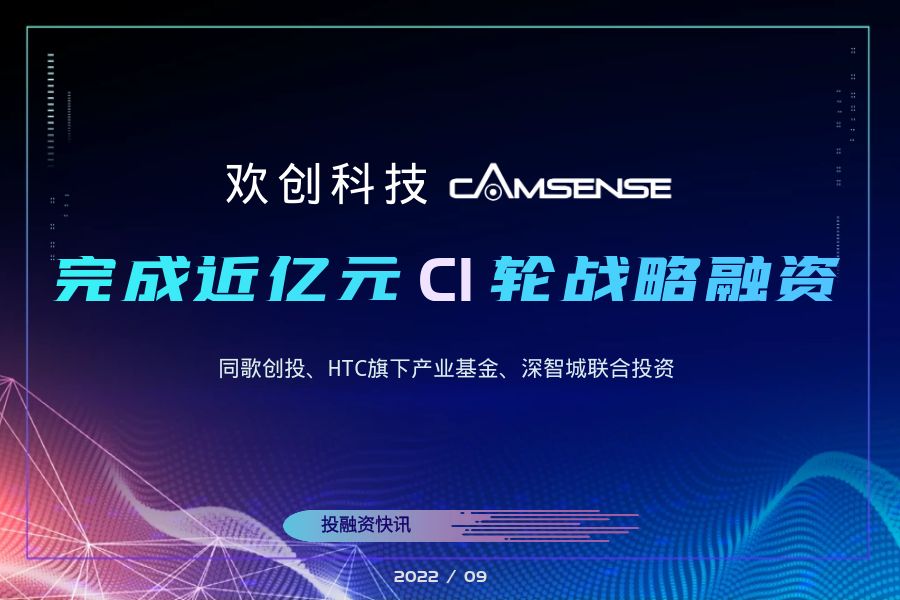 Complete four rounds of financing in two years
Founded in 2014, Camsense Technology is a high-tech enterprise that combines soft and hard technologies and focuses on visual spatial positioning technology. Camsense always believes that the value of visual spatial positioning technology, as an interdisciplinary technology of optical capture, algorithm fusion, artificial intelligence and other fields, lies not only in providing machine positioning awareness for related scientific and technological products, but also in its industrialization characteristics to promote global data intelligence.
At present, Camsense has established a sound business ecosystem in high-precision positioning algorithms, laser radar R&D and production, XR hardware solutions and other aspects, and has built a full path supply chain system in related industries to provide different types of application products and solutions for many well-known customers in industries including service robots, VR/AR, industry/medical, etc.
In terms of technology, products and commercial implementation, Camsense has achieved better than expected market performance feedback. The company's self-developed products, the LiDAR series products, have become the leading supplier of the sweeping robot industry two years ago. After years of precipitation, the VR/AR field has also ushered in new business growth this year. The industrial measurement field has maintained strategic cooperation with representative enterprises in the industry for a longer time and has been widely recognized. Based on the widening of the application track of spatial positioning technology, the maturity of technology, the innovation of business model and the long-term optimism of the capital market, Camsense completed three rounds of B series financing in 2021, with a total amount of more than 200 million yuan.
After this round of financing, Camsense will further strengthen the company's existing business system and talent structure, continue to deepen the underlying technology research and development, accelerate the expansion of commercialization scenarios, continue to increase investment in VR/AR algorithm and in-depth research, new product research and development, intelligent hardware manufacturing and production, and high-tech talent introduction. Through these series of measures to strengthen competitive barriers. Holding the campany to play a greater technical and social value in the field of visual spatial positioning.
Intensive cultivation of VR/AR track
With the popularity of VR/AR market, the demand for related positioning technology, hardware manufacturing and VR/AR solutions also ushered in blowout development. As a solution provider who has been deeply engaged in visual spatial positioning technology for many years, Camsense will give full play to its own advantages in technology and industry chain, accelerate the overall layout of the VR/AR industry, promote the continuous growth of VR/AR full scene business, open up the second business growth line for the company beyond the LiDAR, and point to "the first supplier of VR/AR interactive technology solutions".
Based on this, Camsense is accelerating its layout in the VR/AR field: in 2021, Camsense won the global technology license of Qualcomm's XR2 platform, and this year, Camsense has reached cooperation with several mainstream manufacturers in the VR/AR industry to provide them with interactive technology solutions. The follow-up company will also further focus on the VR/AR field, promote the technical construction and operation upgrading of visual spatial positioning technology in this field, deepen the application results in more industries, and complete the commercialization and popularization of technology.
Zhou Kun said, "We will stick to the'right but difficult things'such as deep technical cultivation, quality service and product innovation, actively respond to the requirements of industry norms, strive for steady and orderly expansion, and strive to do a good job in demonstrating the development of VR/AR industry."
As the technical backbone of VR/AR industry, Camsense will stick to its original intention, constantly iterate its advantages in industrial technology, industrial production, cost control and other aspects in market-oriented competition, and accelerate its growth into a global leading provider of visual spatial positioning technology products.