On December 16, 2021, the Digital Economy Innovation Development Forum with " Navigating the Bay Area" as the theme and 2021 Shenzhen Fast Growing Enterprises TOP100 Conference was held in Futian District, Shenzhen. Camsense was listed in the Shenzhen Fast Growing Enterprise Top 100 list.
The conference was guided by China Enterprise Evaluation Association and organized by Shenzhen Enterprise Evaluation Association and Shenzhen Qianhai Data Service Co. At the same time, through systematic and objective evaluation, the benchmark enterprises with high technology content and excellent growth index will be discovered, and a group of high-growth enterprises with great development and Shenzhen characteristics will be presented to the society more precisely, which will help enterprises to form stronger innovation power in the open cooperation.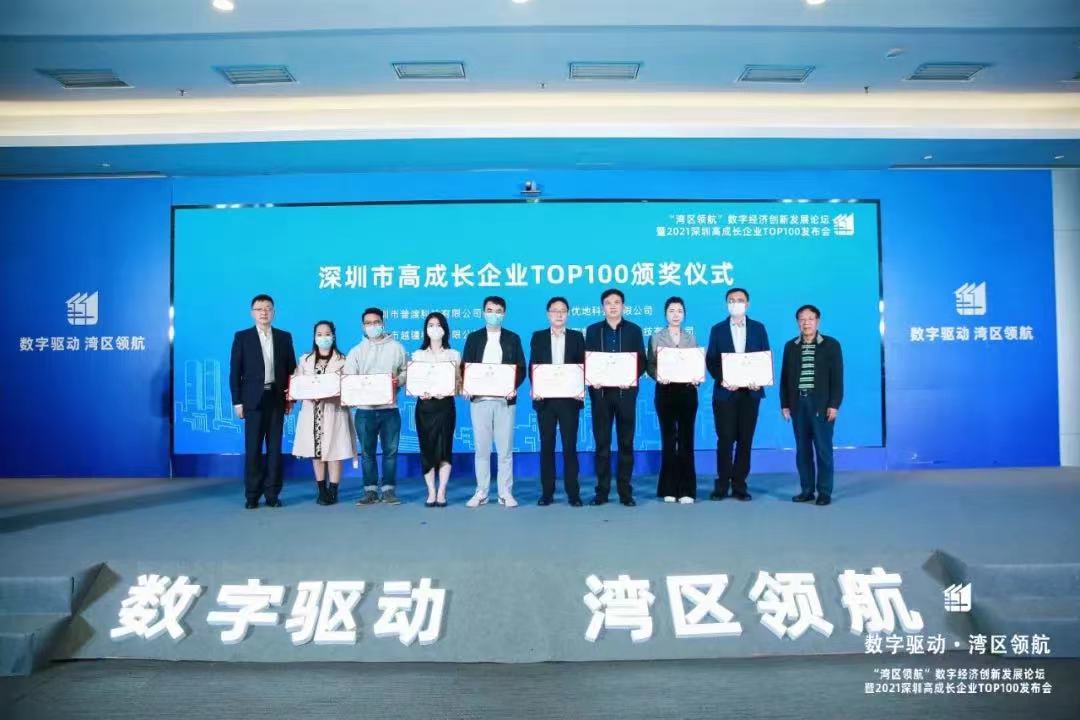 Zhu Yueting, former Vice Mayor of Shenzhen Municipal People's Government, and Li Chunwei, Chairman of the Board(fourth from right),
presented certificates to representatives of Huanchuang Technology Enterprises
The 2021 Shenzhen Fast Growing Enterprises TOP 100 list adopts the SME growth evaluation model based on the mutation level theory, and through the big data measurement method, the research is measured in the dimensions of innovation ability, capital expansion and scale growth index. Since its inception, Camsense has been focusing on R&D and innovation, with R&D staff accounting for over 70% of the company's employees. 2021 saw the successful completion of a series of Series B financing of over RMB 200 million, reflecting the affirmation and confidence of various capital institutions in all aspects of Camsense's strength.

With the booming development of digital technology, major technology giants have also joined the metaverse landscape . In this digital migration carnival, R&D and innovation have become the essential development wings for the growth of enterprises. While Camsense is committed to developing spatial vision technology, it is also helping to improve the industrial intelligence of the metaverse architecture foundation. When digitalization and virtualization gradually emerging as the trend of the times, technological strength and innovation ability are the most important indicators to consider the future development potential of an enterprise. In the future development process, Camsense will continue to sail upstream and move forward with new thinking and ideas, and continue to prosper both in strengh and image.