On December 15, 2021, the 2021 Investment Community Hard Technology VENTURE 50 list was officially released. Shenzhen Camsense Technology Co., Ltd. (hereinafter referred to as Camsense) was selected as one of the top 50 companies in the VENTURE 50 industry list of the investment community with its significance as a vane in the spatial vision positioning technology industry.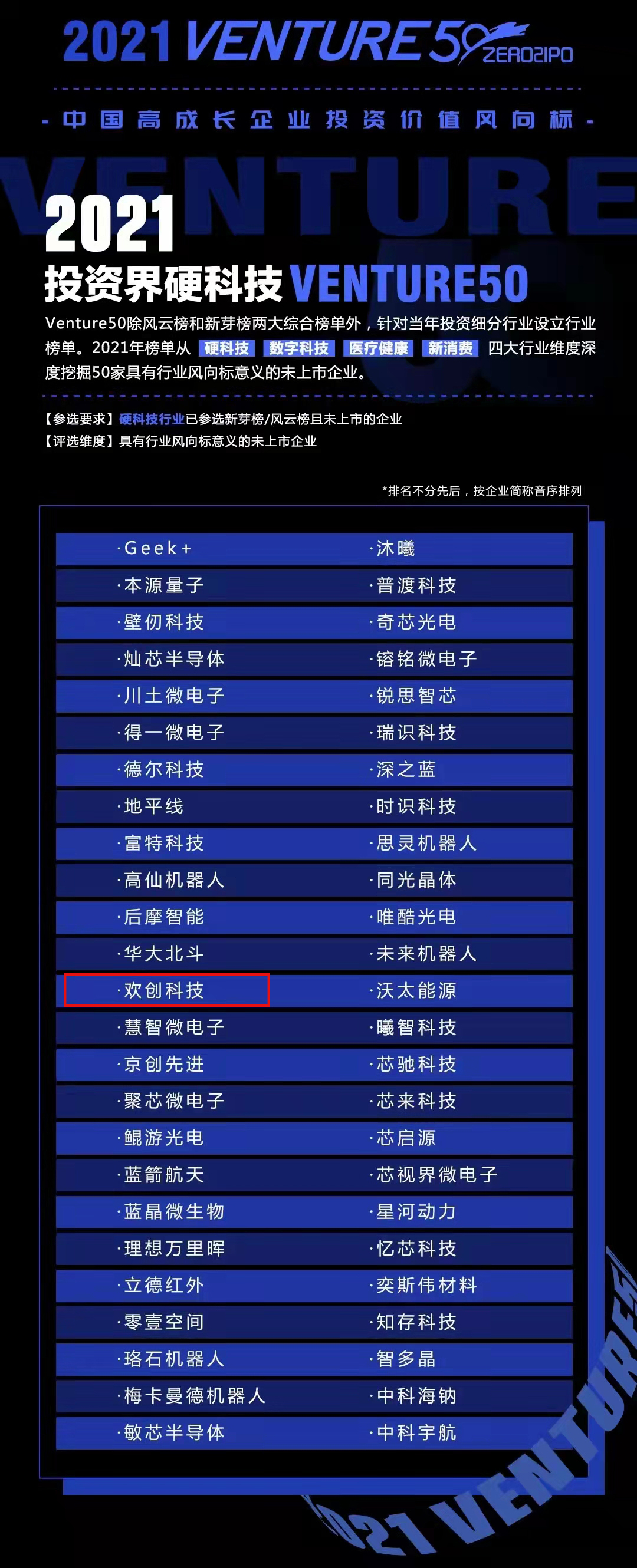 VENTURE 50 is jointly created by Zero2IPOVentures and PEdaily.cn. Since its inception in 2006, the list has discovered and witnessed the growth of numerous outstanding startups, becoming an investment weathervane for high-growth companies and bringing effective financing assistance to the development and innovation of enterprises. With the theme of "Beginning & New", this year's Venture50 aims to continue to play the function of equity investment to serve the real economy, work with hundreds of investment institutions and more than 1,000 investors to deepen the industry, discover more high-growth enterprises, and make technology innovation and economic development complement each other.
In the new round of information revolution sweeping the world, the core technology and innovation ability of enterprises become the first driver of development, and Camsense's inclusion in the VENTURE 50 industry list once again proves its technological ability. Since its establishment in 2014, Camsense has been dedicated to the research and development of high-precision visual positioning sensors, providing core technology and product support for various artificial intelligence applications. Up to now, the company has a team of 200+ employees, of which more than 70% are R&D staff. 2021, Camsense has completed several B series financing in succession, with a total financing amount of more than 200 million yuan, and the increase of investment institutions further validates the industry's confidence and recognition of its future development.
In addition to LiDAR field, Camsense's spatial vision positioning technology can also be applied to VR/AR and industrial medical fields. Through horizontal expansion strategy and multi-industry radiation, Camsense has already started long-term cooperation with domestic and international famous brands such as Xiaomi, Anker, Midea, 360, CTI, Qualcomm, etc., and the influence of the industry is increasing day by day.
With the continuous maturity and development of machine vision technology, the technology will be more and more widely used in modern and future industrial manufacturing, Camsense will continue to base on machine vision, deepen the visual spatial positioning technology, continuously improve the level of innovation to empower products, and provide a constant source of production momentum for social development.