Recently, the 21st Century National Innovative Company 50 (2021) Award Ceremony was held in Shanghai, China, with the theme of "Reconstructing Business - Integration and Innovation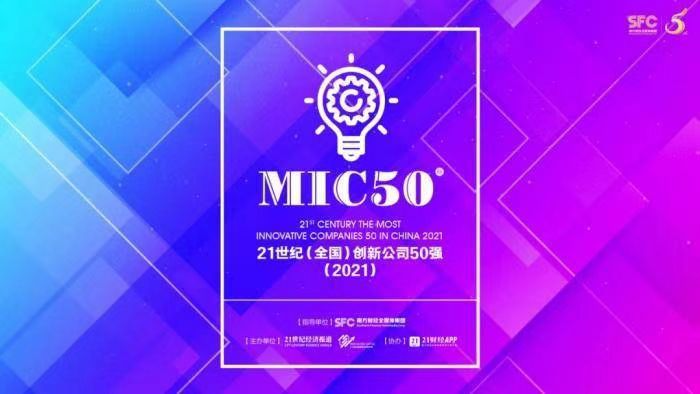 The list is created by the team of the former Fast Company China, which selects 50 "fast companies" with great innovation, business value and investment value by finding companies and people with creative business ideas, fast growth, and certain industry and social values and effects every year. Over the past eight years, with a unique understanding of "innovation" and international professional vision and judgment, the MIC50 list has become increasingly influential both inside and outside the industry, creating a "Chinese innovation community".
Currently, a new round of information revolution with artificial intelligence as its core is sweeping the world. While smart manufacturing continues to renovate the way of daily life, social production as well as enterprise architecture is being constantly reconfigured. Since its establishment, Camsense has been based on the field of visual-spatial positioning technology, and has made continuous breakthroughs in the research and development of core technologies and achieved remarkable results.
Through years of technology accumulation in the field of visual-spatial positioning, Camsense has created a technology line of "surface array sensor + self-research ASIC chip" and mass-produced the first LIDAR product Camsense X1 for this industry in 2018. At present, with the self-research and self-production of LIDAR series, Camsense has been among the top suppliers and has established a leading position in the industry.
In addition to the efforts in the field of LiDAR, the company has also launched a series of related spatial positioning products for VR/AR, industrial medical and other fields, and has cooperated with many international and domestic well-known enterprises, gaining market recognition.

the reason Camsense was listed
With artificial intelligence penetrating into our daily life, the related industries with visual spatial positioning technology as the core will also burst out with greater development dividends. As a leading company in the industry, Camsense will continue to increase innovation in the future development to better grasp the opportunities of the times, meet market demand, and create greater value for customers and the industry.