In September 2020, Shenzhen Camsense Technology Co., Ltd (hereinafter referred to as "Camsense") obtained the ISO9001:2015 quality management system certification for the R&D and sales of vision sensors, which means that the company has added another market-exploiting opportunity in the field of vision sensors. "Golden Card". It also means that Camsense's vision sensor products have met the requirements of international authoritative standards, which is an affirmation of the company's strength and development prospects.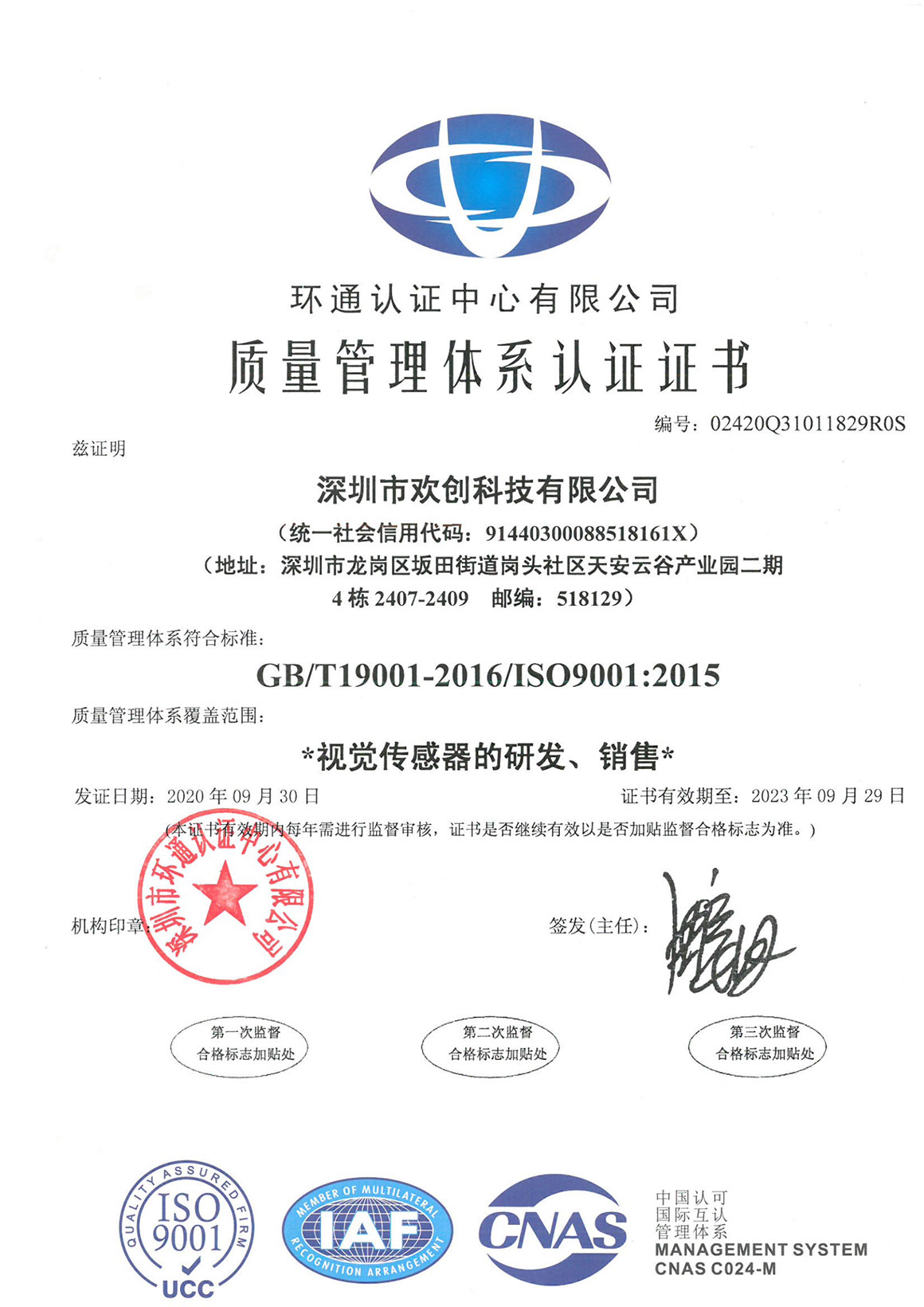 The ISO9001 standard is a series of standards on quality management and quality assurance promulgated by the International Organization for Standardization (ISO) in 1987 and used worldwide. This series of standards has been adopted by more than 90 countries as equivalent or equivalent, and it is the most common international standard in the world. The standards promulgated by ISO are highly authoritative, instructive and universal in the world, so the certification of ISO9001 also has extensive and profound influence around the world.
Clear process, efficient management and experience, as well as excellent product quality and unremitting efforts over the years are the key factors for Huanchuang Technology to be recognized by the market and quality management system. The acquisition of the ISO9001 certificate this time means that Camsense has established a complete quality management system in product development, product quality, customer service and project management, etc., and has the ability and stability to provide customers with products that meet their needs and are suitable for use. Products and services required by laws and regulations. At the same time, the acquisition of this certification provides a strong guarantee for the company to further expand in high-standard international markets such as Europe, and also provides an important help for deepening business cooperation with large domestic and foreign enterprises.
For a hard technology company, the greatest value is to be able to mass-produce laboratory prototypes and ensure product consistency and stability, so as to stably supply customers with high-quality, high-stability vision sensor products. Taking the production of lidar as an example, Camsense has formed a very mature production process from product project approval, model design, laboratory prototype to mass production.
"Better tools make good work", and the mass production of products cannot be separated from the support of the production line. The production model of using quality personnel to go deep into the factory to participate in quality monitoring has always been the core competitiveness of Camsense in product production. Stablize. The high stability and reliability of Camsense products have been verified and recognized by the market.
In the company's large-scale development, Camsense will continue to effectively operate the quality management system, with efficient response speed, continuous innovation and implementation of the closed-loop production of the whole process, in order to create more high-quality visual sensor products.