Problem:
When the sweeping robot from the ground inhalation hair and other debris, all kinds of debris is very easy in the robot internal wind pressure, entangled in the transmission mechanism, the accumulation of debris entanglement easy to let the active wheel or driven wheel into a jammed state, and eventually lead to distance measuring device can not work properly.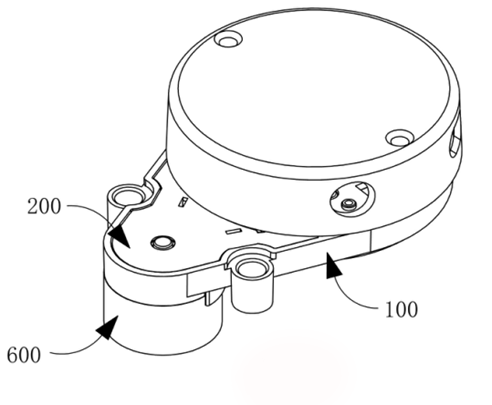 Camsense's Solution:
In response to this problem, Camsense adopts a unique anti-debris winding design to effectively prevent debris from entering.
In the patented technology developed and designed by Camsense (shown above), the company added a new cover 200 that fits on the base 100 to the LIDAR, and sealed the belt in the LIDAR and the driven wheel wrapped by the belt to completely solve the problem of debris entanglement, which is simple and effective, and small changes can bring big innovation.
Exclusive Patent
Camsense's anti-tangle design has applied for an exclusive patent, Patent No. ZL 201922395373.4, titled "Distance Measuring Device", which was submitted on December 26, 2019 and granted on October 23, 2020, and is currently in effect.
Market Appeal
At present, Camsense found that many enterprises have produced, manufactured or even sold or promised to sell LIDAR products with the patented technology without authorization. This behavior not only brings Camsense a large economic loss, but also causes an extremely bad impact on the normal market competition and regulatory order.
For a long time, Camsense has been adhering to the attitude of respecting the market and intellectual property rights, and will take effective measures to actively defend its rights and interests against such intentional infringement. We also hope that colleagues and industry friends will actively provide infringement clues, and we will work together to create and maintain an orderly and good market environment.